December 31
@
4:00 pm
-
11:59 pm
Kick off 2023 alongside friends and neighbors at the Clubhouse New Year's Dinner, which is 4 p.m. to midnight on Dec. 31. The Loose Shoes Band will play a mix of blues and rock 'n' roll from 7 - 11 p.m. More details to come.
November 30
@
11:00 am
-
2:00 pm
Looking to discover a new club? Is your club looking for new members? The Clubs and Organizations fair is a chance for residents to discover the variety of group activities in Big Canoe. It will be on Wednesday, Nov. 30 from 11 a.m. to 2 p.m. at the Mountains View and Sconti rooms at the Clubhouse. Snacks will be provided, and clubs that register will receive a table and two chairs to decorate. For more information or to register a club for an event, contact Teri Sawyer at at 706-268-1092 or at tsawyer@bigcanoepoa.org.
December 2
@
5:30 pm
-
11:00 pm
Friday, December 2, 2022 5:30 p.m. - 10:00 p.m.
Join us for an elegant evening strolling through a magical wonderland while you eat, drink and dance the night away with friends new and old. Cocktail reception with wine, champagne and signature cocktail begins at 5:30 p.m., dinner to start promptly at 6:45 p.m. The evening will conclude with live music by the Atlanta Soul Band.

Dinner selections must be made at the time of reservation: Filet or Black Striped Bass

If you are making reservations for a group, one person from the group should gather the names, lot numbers and dinner selections of those sitting at the table which they are "hosting" and add them all to one reservation in order to be seated together.

Each Winter Ball participant is asked to bring one new, unwrapped toy to donate to a less fortunate child.

All cancellations must be received 72 hours prior to the day of the event.
$90 all inclusive – includes cocktail reception, dinner and music
December 22
@
5:30 pm
-
8:00 pm
The Grinch has come to steal Christmas in Big Canoe! Join us in the Clubhouse Mountains View Room for a special treat as the Grinch tells us his story and then sticks around for this year's Christmas movie, the 2018 version of "The Grinch." Children of all ages are welcome to this fun evening filled with treats and surprises.
December 11
@
10:00 am
-
3:00 pm
Bring the whole family to sample some of Chef Michael's holiday dishes with St. Nick – all while getting creative working with some Christmas crafts. Winter Wonderland will be in full swing at the Clubhouse!
Seatings will be available at 10:00 a.m., 12:00 p.m. and 2:00 p.m.
Homestyle cooking
Character Pancake Station
Letters to Santa for the kids to give directly to St. Nick
Santa's Workshop with coloring and other small gifts
$13 – $27
Added the pricing in Monday but here you go: 4 & under complimentary | 5-12 yrs $13 | 13-17 yrs $17 | 18 & older $27
December 10
@
8:00 pm
-
11:59 pm
The Village Core will be lit up with holiday splendor and some surprises along the way for motorists driving through. The tour culminates with Santa in the Big Canoe Fire Station, where he will be giving out goodies and posing for pictures. More details coming soon.
November 3
@
6:30 am
-
10:00 pm
Join us for an evening of great food, camaraderie and music! Dinner hosted and cooked by our local infamous chef Jeff Moreau.

Seating times for the buffet will be between 6:30 pm to 9:00 pm.

All property owners that do not cancel within 72 hours will be charged full price.
Registration for this event is now closed.
October 22
@
4:00 pm
-
11:00 pm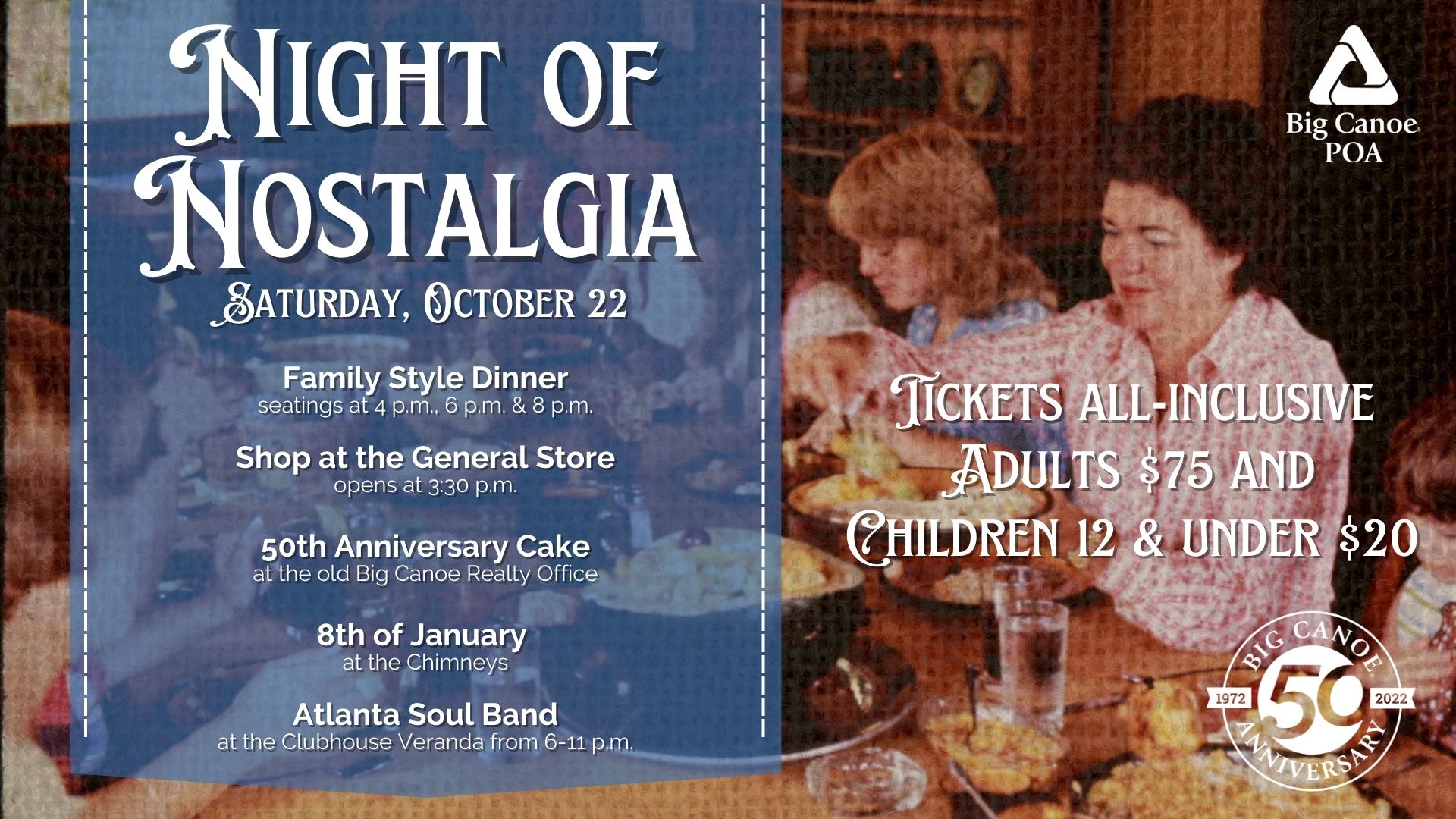 October 8
@
11:00 am
-
5:00 pm
The REIMAGINED Big Canoe Oktoberfest will feature NO TICKET LINES and three stations for beer and beverages! All new entertainment and activities including a petting zoo, gemstone mining, a 21+ Biergarten, and a full Oktoberfest Marketplace! Tickets will be on sale soon! Watch Inside The Gates for more information.
$15
Advance tickets are $10 for adults, and $5 for kids.