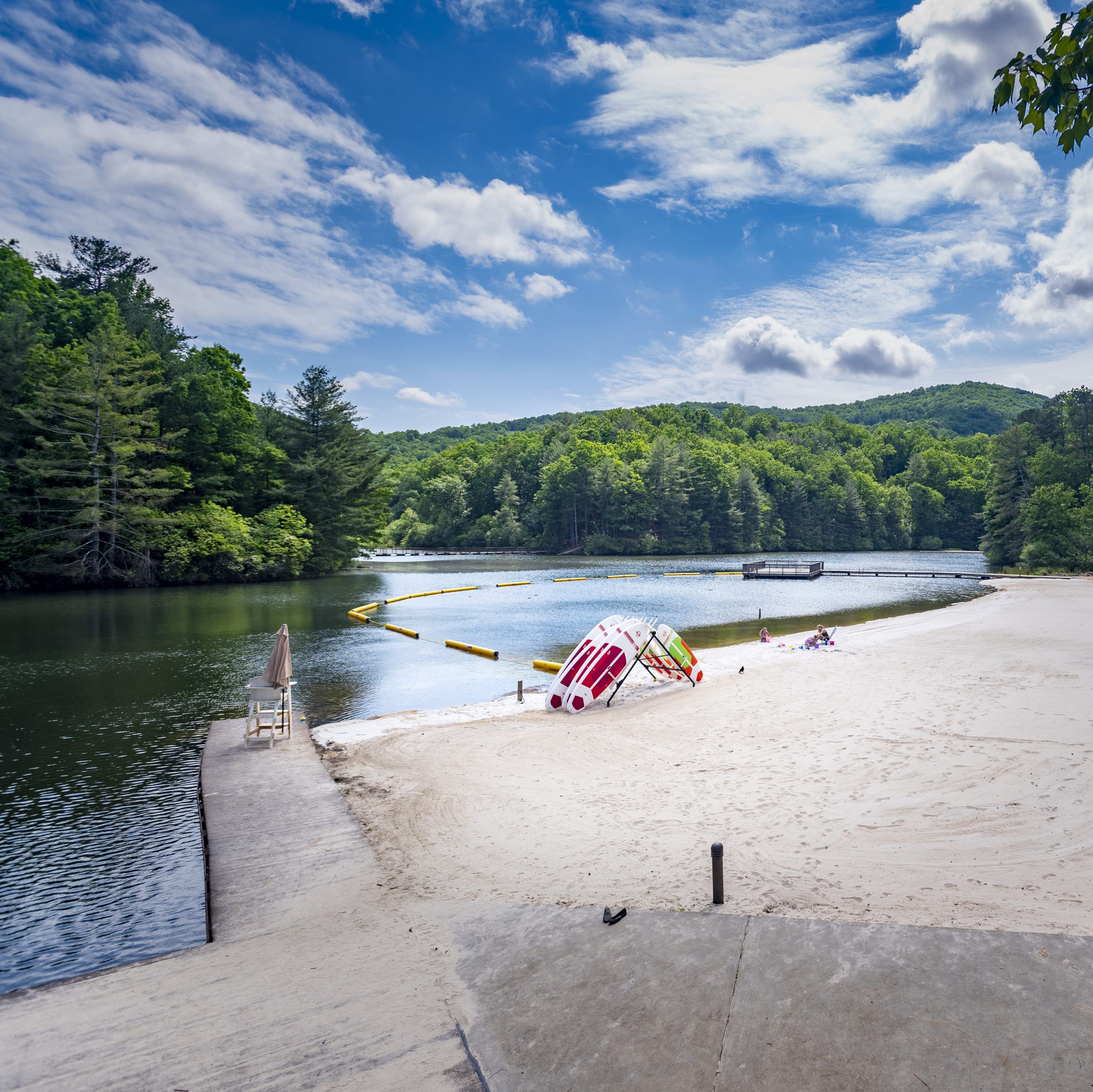 Beach Club
The Beach Club at Lake Disharoon is comprised of a free-form, saline system, zero-entry swimming pool, roped off swimming section in the Lake, as well as a 300-yard, sandy beach front on Lake Disharoon. Features include beach volleyball, paddle boats, canoes, kayaks, paddle boards, bathrooms with changing areas, certified lifeguards, access to hiking trails and the famous 200-foot rock slide. Who could forget the ever-popular inflatable water park for kids, designed to accommodate 60 youngsters at once!
Wildcat Recreation Pool & Splash Pad
Big Canoe's Wildcat Recreation Center consists of a 75-foot lap pool, as well as a kiddie pool with zero-entry and water play features, covered pavilion with lights, fans and a fireplace, bathrooms with changing areas and showers, a children's playground, three bocce courts, a basketball court and a soccer field. This is a great place to bring your own picnic to enjoy by the pool. Wildcat also has a basketball court, a large soccer field, and is home to the Bocce Courts.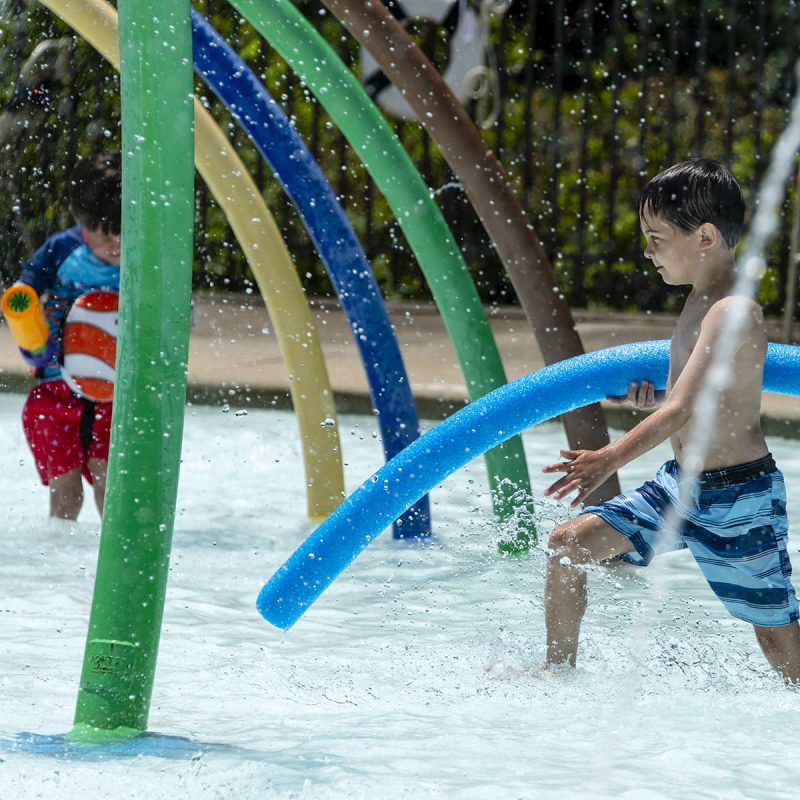 Outdoor Aquatics Rules
Outside food and beverages are allowed at the Beach Club, with the exception of alcoholic beverages. Dining is restricted to the table area on the upper deck.
Outside alcohol may only be brought to the Wildcat amenity (no glass) when alcohol is not available for purchase.
Outside food may be brought in to the Wildcat amenity but is not allowed in the pool or on the pool apron.
Food is not permitted on the beach.
No glass is permitted at the Beach Club or the Wildcat Recreation Center.
Floatation devices are not allowed in the pools. Floats are allowed in the lake.
Children with inflatable swim arms must be in shallow water with a parent within arm's reach.
Personal music may be enjoyed through headphones or personal
listening devices.
Coolers and bags are subject to search.
Children under 14 must be accompanied by an adult over the age of 21.
Children under 12 must be accompanied by an adult at the rockslide.
All children three and under, and non potty-trained children, must wear snug-fitting plastic, rubber or nylon bottoms over a swim diaper. Cloth or paper diapers alone are not permitted.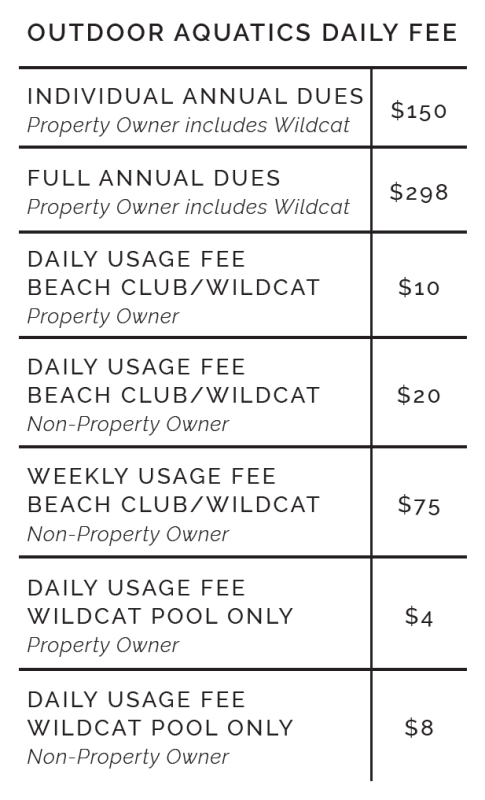 Free admission for children two and under. There are front desk attendants stationed at the entrance to both amenities. To purchase a daily pass, stop by the front desk at the entrance of either the Beach Club or Wildcat Recreation Center.
QUESTIONS?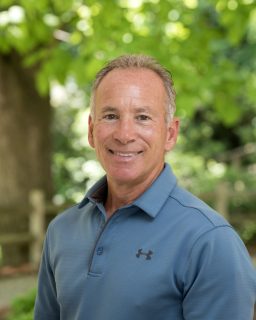 Steve Panetta
Director of Wellness Activities
(706) 268 - 3441
spanetta@bigcanoepoa.org
WILDCAT POOL
(706) 268-3880
BEACH CLUB
(706) 268-3317
BEACH CLUB SCHEDULE
Open Daily May 28 - July 31
Weekends Only Aug. 1 - Sept. 5
Open hours are 10 a.m. - 8 p.m.
WILDCAT POOL SCHEDULE
Open Daily May 28 - Sept. 6
10 a.m. - 8 p.m.
Weekends Only Sept. 10 - Sept. 25
10 a.m. - 6 p.m.
WILDCAT LAP SWIMMING SCHEDULE
Open Weekdays May 28 - Sept. 25
6:30 a.m. - 9 a.m.